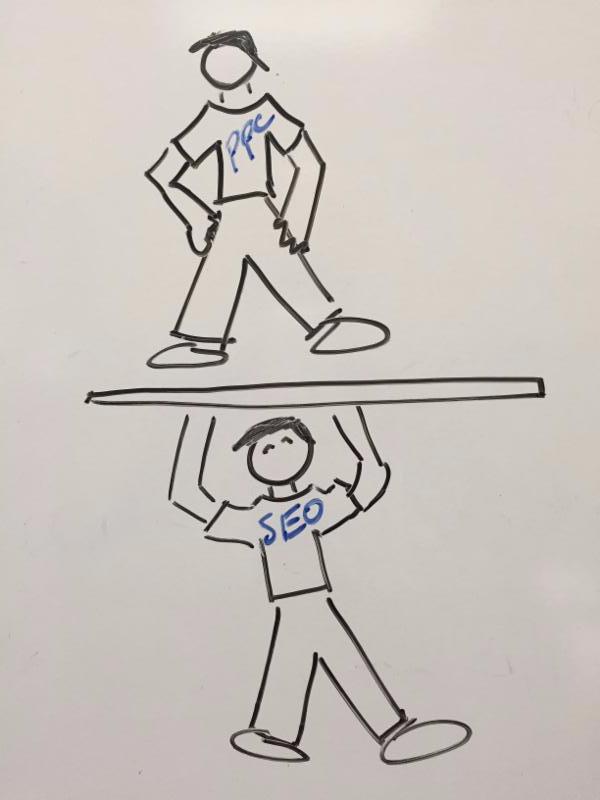 It's been a common idea and belief in the small business world that Pay-Per-Click website traffic boosts Search Engine Optimization and organic ranking. Most business owners have the plan of paying an SEO specialist to work on their website so that it eventually ranks highly enough so as to not need PPC.
I, however, believe that idea to be misguided. Here's why.
***(Side note: I drew that picture. Feel free to mock my art skills.)***
PPC Traffic Doesn't Always "Count"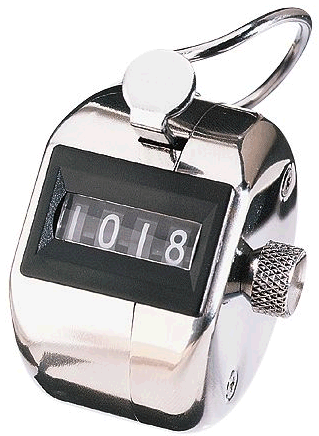 When a website visitor gets there via paid advertisement, Google (obviously) knows it. Depending on the duration of their session (visit to the website), and how they interacted with your website, the traffic may not meet their "qualifications" for a visit. The biggest reason is that if PPC traffic counted as "true" website traffic, that would mean that you can buy website visitors.
While those criteria of what truly "counts" isn't commonly known or talked about outside the fortressed walls of Google, you have to understand that Google's biggest concern is how interesting or relevant the information on your website is to whatever your target is searching for.
How Does SEO Support PPC?
When you combine Search Engine Optimization and Pay-Per-Click efforts, it's known as Search Engine Marketing (SEM). The primary goal of SEM is to give your business as many placements as possible on the first page of search results.
That means you show up in an ad, the map listing (3-pack/"snack pack"), AND the organic (unpaid) search results. Ideally, you'd have all three down pat and enjoy a high "impression share" (percentage of times you show up vs. the number of times you have the chance to show up).
Continual, regular updates to your website (SEO) help to make sure your website more attractive and relevant to searches on Google. The more optimized your website gets, the better prices and placement you'll start receiving when advertising with AdWords.
Once your website start showing up well in the organic search results, however, that doesn't mean you should give up advertising. On the contrary, your paid placement only increases the chances that the person who started the search will end up on your website.
NEVER Stop Doing PPC or SEO
Search Engine Marketing is a continual process. You should be doing both PPC and SEO so that you increase your chances of being found – especially when you have potential customers who are actively looking for someone of your expertise. It's like submitting a bid for a commercial job in miniature. You pay for the chance to have your customer hire you.
The better your website performs, the cheaper you'll be able to make your bid, or at least you'll get a higher placement in comparison to a competitor placing the same bid.
Look At It This Way
Go back to when you were a little kid and think about the Merry Go Round on the playground. It was one of my favorite things. I have very dear memories of the playground down the street from my grandma's house. When my cousins would all get together, the little kids would all pile on and the bigger kids would be the pushers. But there was a BIG difference between my wimpy cousin being a pusher and my older brother (who worked out). When he pushed, we got going so fast that we thought we'd go into orbit!
That's how an optimized website can propel your PPC efforts. The better your site, the more Google is willing to promote you to potential customers, and the more often you'll show up (think of revolutions on the merry go round). You'll also have to pay less and less for your clicks (once it gets going, you don't have to push as hard to keep it that way).
Big Takeaway:
No matter where your business is located or how long you've been there, the ideal is for you to show up as often as possible when a potential customer is searching for you. SEO supports PPC efforts, which should never stop.
Talk to your SEO & PPC vendors about how often you're showing up in search.
Never stop doing PPC advertising. It's an opportunity to connect with potential customers.
Never stop working on your website. Google is constantly changing its search algorithm. Your vendor should never stop working on your website.
Take a look at your SEO and PPC strategies to make sure they're aligned. Your website should support your PPC efforts. Always remember that.